By Ori Yang and Jeff Li
Canada welcomes skilled people to apply for permanent residence. In 2015, the Express Entry system was introduced to expedite the immigration application process for skilled and experienced workers. It is "express" because once you are invited by Immigration, Refugees and Citizenship Canada (IRCC) and you submit your completed application for permanent residence, it will take roughly 6 months for IRCC to process most of your application.  This is compared to the 15 months' processing time for ordinary Provincial Nominee Program (PNP) immigration applications (as at July, 2016).
Eligibility
At present, applicants under the following economic immigration programs at the federal level are eligible for the Express Entry:
Canadian Experience Class (CEC);
Federal Skilled Worker (FSW); and
Federal Skilled Trades (FST).
Express Entry also leaves some space for provinces and territories. They can select the preferred candidates for their respective PNPs. Candidates with a provincial nomination certificate will receive a "boost" in the selection system – big enough for them to stand out in the selection round of the IRCC invitation. As Quebec has different programs for skilled workers, Express Entry does not apply to those programs.
How to participate
Express Entry works in a two-step mechanism. The first step is to fill out forms online and create the so-called Express Entry profile. People who have already met the requirements for any of the programs listed above will be accepted into a candidate pool.
Based on the information you provide in your profile, Express Entry awards different points to different factors (see the table below). Every candidate is awarded his/her final points in the pool and all candidates are then ranked from the highest points (up to 1,200) to the lowest. IRCC will then invite qualified candidates to participate in the Express Entry system.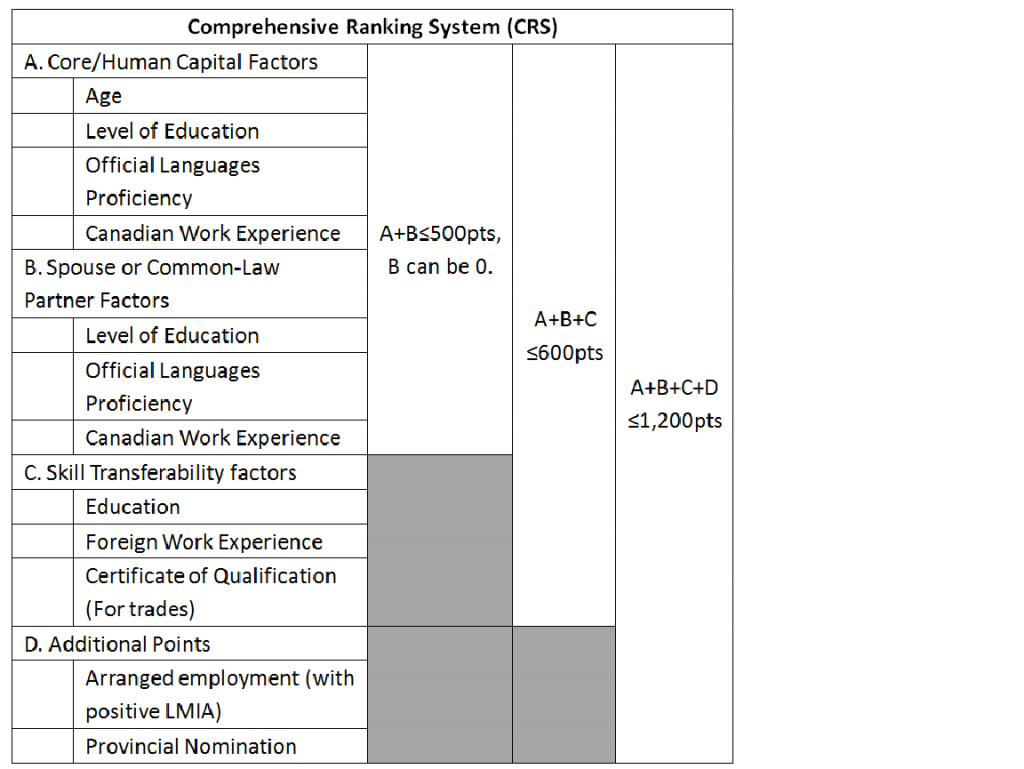 There are several rounds of invitation each year, and for each round there is a quota for invitation. Depending on the points of the available candidates, the points required for being selected will change. Those with points above the entry line will receive an invitation to apply for permanent residence.
Each candidate can stay in the pool for a maximum of 12 months. After that, you will be moved out of the pool until you submit your new online profile and are qualified to re-enter the pool.
How to get more points in the Express Entry System
A candidate's job offer, skills, work experience and provincial nomination are highly valued in the Express Entry system.
If candidates have a job offer supported by a positive Labour Market Impact Assessment (LMIA; note: for some jobs LMIA may be exempted), they will receive an extra 600 points. Given the current entry points fluctuate between 400 and 500, this alone may qualify a candidate for being selected for invitation!
For candidates without such a job offer, they will be required to register with the Job Bank. The Job Bank will help to match suitable candidates with eligible Canadian employers. However, these candidates can continue with their regular job hunting as well. Once you get a job offer, your employer needs to apply for an LMIA (unless it is exempted) in order to ensure your job offer qualifies you for the bonus.
Another way to get bonus points for the Express Entry is by way of a nomination certificate from a province or territory. Provinces and territories can select their preferred candidates under their respective PNPs. Once a nomination certificate is issued, the candidate can get 600 points for their Express Entry profile.
If you are considering immigrating to Canada under the Express Entry program, you should make sure your application meets the various requirements for this program.  To speak with us, contact our office at (416) 800-7196.
Related Articles
Immigration Services at Jeff Li's Law Office